Seguiment i execució de les propostes
26/03/2022 - 31/03/2022
Process phases
A participatory process is a sequence of participatory activities (e.g. first filling out a survey, then making proposals, discussing them in face-to-face or virtual meetings, and finally prioritizing them) with the aim of defining and making a decision on a specific topic.
Examples of participatory processes are: a process of electing committee members (where candidatures are first presented, then debated and finally a candidacy is chosen), participatory budgets (where proposals are made, valued economically and voted on with the money available), a strategic planning process, the collaborative drafting of a regulation or norm, the design of an urban space or the production of a public policy plan.
About this process
Aquest any es duu a terme la 6a edició dels pressupostos participats de l'Assemblea Jove SVH. Novament, el jovent de Sant Vicenç dels Horts d'entre 14 i 30 anys farà un exercici de democràcia directa per decidir en què s'inverteixen 12.000 euros del pressupost municipal de Joventut.
Com hi pots participar?


1- Omple la butlleta amb la teva proposta i deixa-la a la web o als punts de recollida.
Pots fer-ho entre el 10 de febrer i el 3 de març.
2- Vine a l'Assemblea Jove a defensar-hi la proposta.
Serà el divendres 25 de març, a les 18h. al Gimnàs de l'Escola La Vinyala.
3- Si la teva proposta hi surt escollida, has d'implicar-te a organitzar-la.
Des de La Capella i el SIAJ t'ajudarem a fer-ho.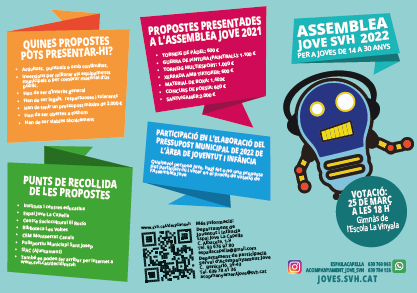 Start date
February 10, 2022
Reference: SVH-PART-2022-08-809